C.O.M.A. General Membership Meeting
4th Thursday of the Month

Next Meeting; October 22; 7:00 PM
**We will continue planning for the BIG 2016 ALL-MOPAR SHOW**
Be there! Or, "Hold Your Peace"!
Location: All American Diner; 212 South Air Depot Blvd.; Midwest City, OK


---
---
---
---
************************************************************************************************************************************************************************
---
COOL UPCOMING EVENT!!!
---
FOOSE that Challenger !!!!


---
MOPARS ON THE RIVER RELATED...
---
********
Copy of the YMCA's Thank You Letter to COMA for the $3,000 donation to the "Our Sister's Closet" Project.; partial proceeds from MOPARS ON THE RIVER Show.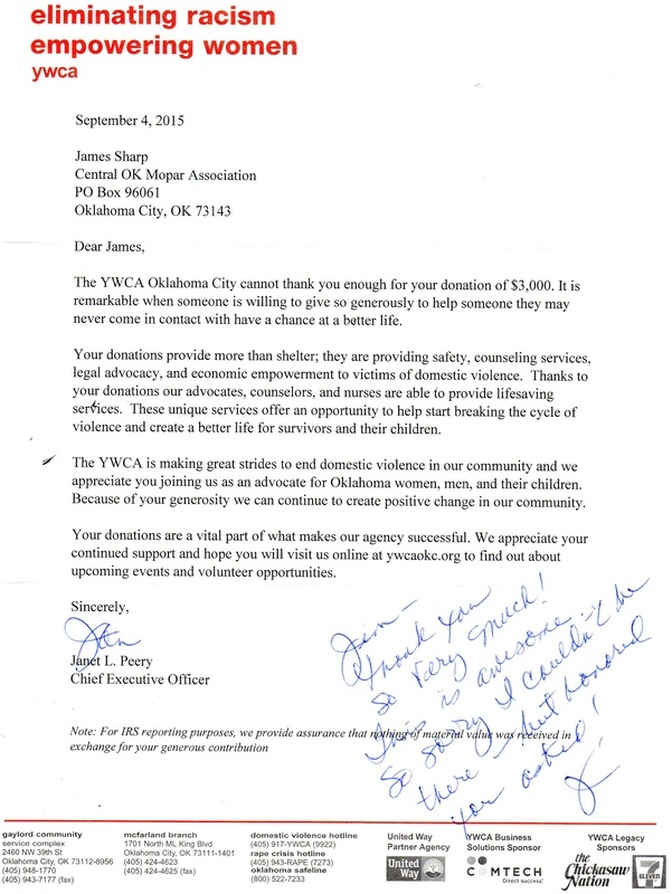 ---




COMA President Scot Wegland Present $3,000 Check to this year's show Charity Beneficiary, "Our Sister's Closet"

Bass Pro Shop Lady's Choice Award!






---

COMA Presents an Appreciation Plaque to one of our DIAMOND Sponsors for the annual show; pictured at right, Jay Longacre, Sales Manager for Bob Moore CDJR on NW Expswy.
(In front of the FOOSE CHALLENGER!)
---
** See the "Gallery" Page for hundreds of photos from June 2015's ALL-MOPAR Show !!
---

Thanks Again to...
Over 40 SHOW SPONSORS
(Please reward them with your business!)

---

---
---
---



THANKS TO OUR DJ...
KOMA Radio's Ronnie Kaye????



---

HEY CUDA DRIVERS! The Webmeister still had this unique item FOR SALE from Saturday's Show!
Customed Framed Set of 27th Anniversary ALL-MOPAR Show Cuda Poster, with matching Window Sticker, and Tee Shirt.

Contact the C.O.M.A. Webmaster if interested in making a serious offer!
MOPARs at the Perkins Car Show
September 26, 2015


---
Upgraded Charger Pursuit launched
with huge screen
See the full story at....
---
---
---